Millie Denson Obituary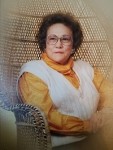 March 26, 1926
-
April 13, 2019
Born in Donovan, Missouri
Resided in

Vancouver

,

Washington
Obituary
Millie Jane Denson of Vancouver, WA, died April 13th, 2019 at Guardian Angel Care Center. Millie struggled with dementia for over 12 years, but in her last days she was surrounded by her children and grandchildren and had a peaceful departure.
Millie was born March 26th, 1926 in Doniphan MO, to James and Lovie Smith. She had 9 siblings.
On March 26, 1926, Millie Denson was born, and the world was never the same. She was full of life and brought sunshine to all those that she touched. Millie had a busy life with many different gifts that God gave her, and she used everyone of them. She worked hard her whole life with varies types of jobs. She worked in the fields with her brothers, picked cotton, split railroad ties, was a seamstress working for Blue Bell and Jantzen. She waited tables, was an Avon lady and a Home Interiors dealer. She was a den mother for both girl and boy scouts, little league and active in PTA. She worked at Boing in Seattle WA doing several jobs and was respected by all who met her. The work she loved the most, besides being a mom, was when she was an in-home care giver. She did this work in her later years of life starting around 50 and continued until her 80th year. Her clients and their families called her an "Angel" as she always went above and beyond with their care. She also opened the door of our own home when one of her clients were going to be home alone on a holiday, such as Christmas.
Millie was often caught doing a bit of dancing with or without a partner as she had a love for dance. She brought smiles to everyone especially when she heard a tune she just couldn't keep still to; a slap of the hands and her little feet did the happiest dance. Everyone had a difficult time keeping up with her and her energy. She loved to jitter bug and swing dance and as time went on, she LOVED good ol' rock n roll of the 50's and anything else that had a good beat. A good Bob Seger tune would get her out of a chair in a heartbeat. She loved to bowl, she was involved in several teams throughout her life time and was good at it.
Millie loved her family more than anything, she came from a large family of 9 children and she was close to each one of them. Family reunions, Christmas cards and long phone conversations with her sisters were often heard late into the night for sisterly support when needed.
Millie was married 3 times and out of those marriages grew a wonderful blended family of 5 children. Larry, Donna, Dan, Penny and Tim and they all went on to marry and give her 18 grandchildren, 36 great grandchildren and 36 great-great grandchildren. Also, with 8 siblings she was also blessed with many nieces and nephews, too many to count but she loved each and everyone of them so very much and it showed with every gathering we had.
Millie is survived by her children, Larry (deceased) and Karen Jones of MO, Donna and Paul Fishbein of Idaho, Dan and Barbra Jones of Az, Penny and Dan Wolff of WA and Tim and Kathy Sandel of WA.
The Funeral Services will be held Saturday, April 27, 2019 at 3:00 PM, at Evergreen Memorial Gardens Funeral Chapel: 1101 NE 112th Avenue, Vancouver, WA US 98684. You may arrive as early as 2:00 PM, to view Millie, if you so desire. It will be an open casket ceremony.
There will be a Graveside Service immediately following which will be held at: Lewisville Cemetery, Battle Ground, WA US 98604. Directions will be available at the chapel.
For those who would like to attend a "Celebration of Life Gathering" it will be held at 5:30 to 7:00 pm, immediately following the Graveside Service at: Community of Christ Church, 400 NE 179th Street, Ridgefield, WA 98642.
Awesome Flowers is being recommend by the family, if you desire to send. You can order on line @ www.awesomeflowersvancouver.com 807 Grand Blvd., Vancouver, WA, 98661, (360) 993-5323. Contact: Joel
Family is requesting that you leave a favorite memory of time spent with Millie in the guest book for us to read and cherish as we remember her life. If you want us to keep it private, please state that in your message. Thank you.
To send flowers or a remembrance gift to the family of Millie Denson, please visit our Tribute Store.
Services
Viewing
Evergreen Memorial Gardens Funeral Chapel
1101 NE 112th Avenue
Vancouver
,
WA
US
98684
Chapel Service
Evergreen Memorial Gardens Funeral Chapel
1101 NE 112th Avenue
Vancouver
,
WA
US
98684
Graveside Service
Lewisville Cemetery
12119 NE 269th Street
Battle Ground
,
WA
US
98604