Samuel Roche Obituary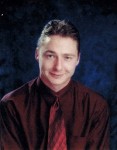 October 22, 1975
-
January 5, 2019
Born in Green Bay , Wisconsin
Resided in

Vancouver

,

Washington
Obituary
Sam Roche passed away Saturday, January 5, 2019 in Vancouver, Washington following a brief illness. Sam and his twin brother Ben were born in Green Bay, Wisconsin. They moved with their parents to Vancouver, Washington when they were two years old howling all the way across country. Although they fought constantly as young children, they were inseparable friends and remained so through their adult years.
Sam had a carefree, relaxed attitude toward life and made friends easily. His characteristic "Sammy smirk" was evidence of his wry wit and he always looked like he was thinking about something funny.
He was a terrible tease and especially enjoyed tormenting his grandmother by hiding her purse; she in turn expected and delighted in this predictable game. However, those close to him knew what a kind, generous, and sensitive soul he was even though he did his best to guard these aspects of his personality with humor.
Sam attended Mountain View High School, when he felt like it and had the dubious distinction of being the first person to graduate from the Alternative Learning Program with an actual high school diploma, rather than a GED. He attended Clackamas Community College and became a low voltage electrician for Delta AV in Gresham. He loved his job and working with people. The photo above was taken when he was named "employee of the month" at Nordstrom's Rack many years ago.
He loved football and the Green Bay Packers were his favorite team. His favorite baseball team was the Red Sox; Ben's is the Dodgers. When the Red Sox beat the Dodgers in the World Series, rather than gloat, Sam generously gave Ben a hug of sincere condolence.
Watching B-rated or foreign films with Sam was hysterical as he and his brother delighted in providing non-stop sarcastic commentary. Film-making apparently was a passion of his as well. This talent was discovered when his mother arrived home early from work one day and found he and his brother deep in the middle of making a Claymation film. Even though this was taking place during school hours, she was assured all was well because it was a school project.
He was a reader as well and Dean Koontz, Ayn Rand, and John Steinbeck were among his favorite authors. Sam had a philosophical side that few people were aware of and he could talk long into the night about religion and life in general. When he was in high school, he wrote many imaginative stories, one was about discovering the edge of the universe years before it was discovered. Looking back, he had a talent for the humanities that should have been pursued.
His life was a gift to us and we who loved him will forever be grateful for the years of joy and light he brought to us. He will always be but a sweet memory away, and we will always miss his wise cracks, smile, warm heart, and generous spirit.
He is survived by his mother, Camilla Gottwig; step-father Mark Gottwig; father, David Roche; brother Benjamin; sister Jennifer Fryer (Paul); step-brother Travis (Courtney); nephews: Jack, Henry, and Owen Fryer; and (brand new) niece, Sterling Gottwig in addition to numerous loving aunts, uncles, cousins, and friends.
To send flowers or a remembrance gift to the family of Samuel Roche, please visit our Tribute Store.
Services
Funeral Home
Evergreen Staples Funeral Chapel
3414 NE 52nd Street #101
Vancouver
,
WA
US
98661
2020-11-28T