Shane Smith Obituary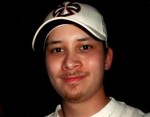 December 28, 1981
-
March 22, 2019
Born in Spokane, Washington
Resided in

Vancouver

,

Washington
Obituary
Shane M. Smith of Vancouver, WA passed away on Friday, March 22, 2019. He was only thirty-seven.
Originally from Spokane, Washington, a spontaneous road trip to visit friends brought him to where he would call home for the next eleven years. He fell in love with Portland and moved to "Vantucky" as he liked to call it. This move brought on a new chapter of his life as this is where he would meet his future wife, Melissa, and they would eventually have their son, Kai, who he cherished more than anything. He is survived by them, his mother Diana, two brothers Chris and Richy, and a multitude of friends and family.
He grew from his mother's miracle baby to a tenacious teenager that knew no ends to the trouble he liked to get into. Many hilarious stories followed these antics, I'm not sure anyone could remember them all. He eventually settled down and became the well-rounded man we all knew today.
He was both kind and devilish, loving and fierce with a quick wit and smart mouth that was second to none. His home was always open to friends and he often made these people his family. He had a job working as a Coca-Cola merchandiser that he absolutely loved, so much so that he managed to coerce all his longtime friends into following him. He even managed to "steal" a few good men from the competition. 'Sorry Corwin'.
He was a man of many hobbies and interests, but he loved being outdoors. If it was nice outside, that was where he wanted to be whether it was to go camping, fishing or hiking. He was an avid photographer with astrophotography being a keen interest. He also enjoyed snowboarding, shooting and on the rainy days (hello Northwest) gaming.
He was an insatiable foodie, anything from street tacos to ribeye steaks he loved. His love of food was only held on par for his love of travel and short trips to Bend, Lincoln City and Seattle were a common occurrence. Hawaii was his favorite place to visit, having gone three times, which is kinda funny for someone who didn't much care for water.
Now, when it comes to electronics or any type of technology that caught his fancy, no one can hold a candle to Shane. Just ask his wife who has now inherited a small hoard of knives, flashlights, and gadgets and gizmos a plenty for no other reason than he liked it and "It was on sale!"
He was always looking for the next best thing and always had to be the first one to reach that goal which is why everyone he's left behind is saddened by this loss, that he reached this finish line first, leaving the rest of us to 'hurry up and wait'
Shane may have not been perfect in the strict sense of the word, but he was perfect to us.
It's impossible to summarize a lifetime of love and laughter, sadness and tears in so few words. Please join us in his Celebration of Life on April 11th, at 3pm at Evergreen Memorial Gardens to further share the memories of an incredible man who has touched the lives of everyone he met.
To send flowers or a remembrance gift to the family of Shane Smith, please visit our Tribute Store.
Services
Memorial Service
Evergreen Memorial Gardens Funeral Chapel
1101 NE 112th Avenue
Vancouver
,
WA
US
98684
Hospitality
Evergreen Memorial Gardens Funeral Chapel
1101 NE 112th Avenue
Vancouver
,
WA
US
98684
Hospitality will follow the Memorial Service
- Show more -